Today I...
...am breaking my no blogging from work rule, because I just have to tell you about what happened to me on the way to work this morning and also because I miss blogging, I really haven't been around much lately! Sorry about that, I'll try and do better!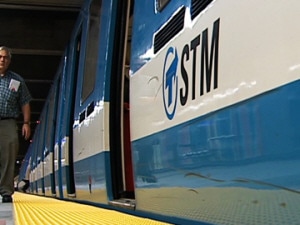 So, lets start by the beginning! I took a half a sick day yesterday to go and get some shots just in case I end up going down south with my Sweetheart. I was not immunized against Hepatitis A or B or Tetanus, so made an appointment at the travel clinic for 10:20 in the morning and got my first round of Twinrix (next round is on May 15th) and the Tetanus shot. I left from there and headed towards Berri-UQAM metro station to get in to work, but as I was going through the station, I remembered that it was a service center for the STM where you can register your Opus transit card. By registering your card with the STM (Société de Transport de Montréal), you can have it replaced for free if it is lost or stolen. I headed over to the service center and they registered my card and then I used it to get on the metro and put it in my purse. Fast forward to this morning, my Sweetheart and I head out of my apartment at 8:10 A.M. to head to work. I tell him how I registered my card yesterday and we're talking about how great it is that we can do that now with the chip cards, because it used to really suck when you lost your magnetic card and had to pay for a new one all over again. Then the bus shows up and
I can't find my pass!!!
I kid you not, it was not in my purse. My Sweetheart and I went one stop and then had to get off because I couldn't pay. We rooted through my purse some more, still nothing, so we ended up walking back to my place where I checked the pockets of the coat I was wearing yesterday and emptied my purse and shook it upside down while my Sweetheart did a thorough run through of my wallet to see if my card was there. No such luck. I felt horrible, I really had no clue how I could have managed to lose my bus pass! My Sweetheart was really good about the whole thing and gave me enough change so I could get back on the bus and get to work and also so that I could get on the metro later on today to go and get my replacement pass. I just hope that there's no delay in the registration time for transit passes and that mine went through yesterday or early this morning, otherwise I will be a most unhappy camper. I think I'll print out another registration form, fill it in and bring it with me when I go to the service center on my lunch hour so I can hand it in one the spot for my new card!!! One thing is for sure though, the transit passes in Montreal are bargains. If you're like me and you take the bus and metro on average a minimum of twice a day every day and you are an adult on full fare, you would spend a minimum of 180$ a month without a pass. If you buy a monthly pass though, you pay 75.50$ a month and travel as much as you like. I will try not to complain the next time they hike the rates lol
So there you have it, my transit pass saga! Moral of this story: I will never wait before registering my pass again and my Sweetheart is very deserving of his blog nickname :o)